File Transfer Solutions for Small Business
Small companies may not have as many file transfer requirements and transfer frequency as large companies. But they still the need of file sharing actually. Therefore, many file transfer software have launched solutions specifically for small business file transfer needs.
If you are a small company staff and looking for a transfer tool. This article may give you some tips. Here are 5 solutions. Let's have a look if you're interested!
---
Solution to file sharing for small business
1. Raysync
Raysync is an enterprise high-speed large file transfer solution. Since the file transfer size and transfer volume are not limited, the user's file transfer speed will not be actively restricted. This makes this software popular among various companies and industries.
Raysync supports TCP and UDP file transfer protocols, provide 1Gbps and 10Gbps two solutions. You can choose to deploy Raysync on your local server or on a public cloud. At the same time, it also supports SDK integration and API.

Transfer Volume: Unlimited
File/Folder Size: Unlimited (PB-scale supported)
Transfer Protocol: UDP/TCP
License Bandwidth: 1Gbps/10Gbps
SMB Version: USD699 a year
Free Trial: https://www.raysync.io/apply
Raysync provides enterprise users with the greatest support for large file transfer and team management, especially the SMB version designed for small business, making it affordable for every small teams.
2. FileWhoppe
r
FileWhopper is an online file transfer tool with no size limits. It supports sending files up to 10TB in size, and it can be sent without compressing files beforehand.
Transfer Volume: Pay as you go
File/Folder Size: 10TB Max
Transfer Way: Online
Price: USD 4.99 per transfer for file size under 40GB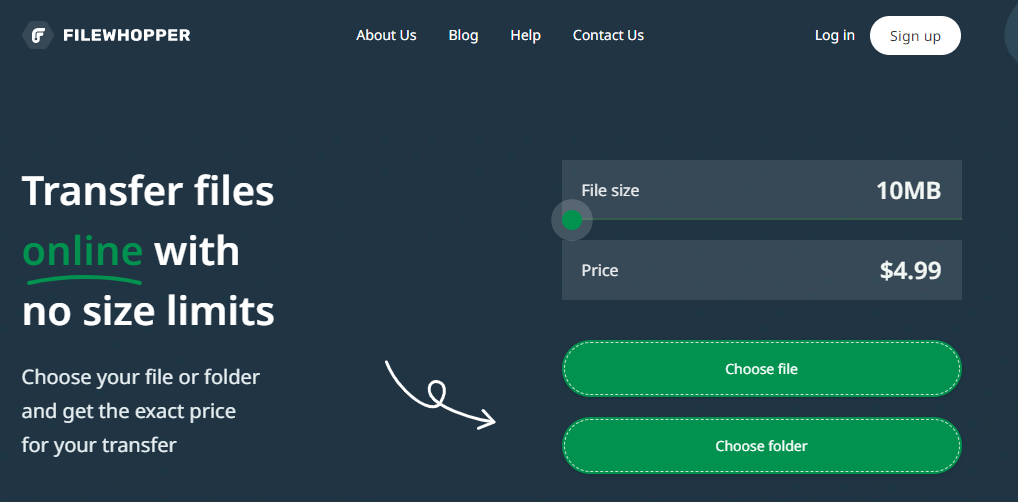 Pros: The transferable file size is up to 10TB, and the Pay as you go form is very suitable for small teams that do not often have file transfer needs.
Cons: For teams with large monthly file transfer needs, this pay as you go payment method is not cost-effective. Additionally, security and auditing capabilities for corporate file transfers are insufficient. Only suitable for online transmission needs.
3. WeTransfer
For small businesses, there is also a very suitable online file transfer plan—WeTransfer. The free version of WeTransfer supports file transfers up to 2GB, and there is also no need to compress files. What's more, WeTransfer Pro supports file transfer and acceptance up to 200GB, and provides 1TB of file storage space for each user.
Price: Free/Pro
Transfer Volume: 2GB for Free
Transfer Way: Online
Pros: As an online file transfer service, WeTransfer provides users with easy operations. At the same time, both the file receiver and the file sender can know the file transfer and download status in real time through email notifications.
Cons: WeTransfer does not support enough transfer file size. But for small teams, the free version is more than enough.
4. SurgeSend
SurgeSend is an easy-to-use file transfer service. Support password protection for files, and track file transfer status.
Version: Free/Pro/Enterprise
File Storage: 5GB for free
Transfer Size: 3GB for free, 50GB for pro
Price: USD15/month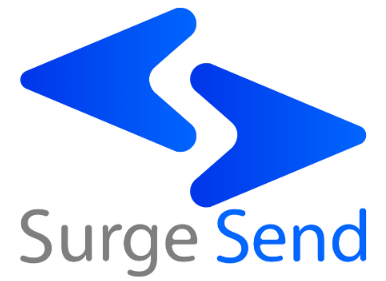 The price of SurgeSend is cheaper than other online file transfer services, but he has a single file size limit, so for businesses with larger file transfer needs, this service may not fully meet the needs.
5. MediaFire
MediaFire is an enterprise file transfer service that focused on file sharing and storage. Long-term storage of files is supported, and downloads are unlimited.
Version: Basic/Pro/Business
Transfer Size: 20GB per file
Storage: 1TB/2TB
Pro Version Price: $5.00 month-to-month
Business Version Price: $50.00 month-to-month
Pros: As a file transfer service for small and medium-sized enterprises, MediaFire supports permanent storage of files, and can also share and upload folders. It is allowed to upload hundreds or even thousands of files at one time through the Web. In terms of file transfer security, MediaFire also supports generating one-time file sharing links.
Cons: MediaFire does not have much support for large file transfers, and only supports files up to 20GB each. For users in industries such as media, a video may exceed 20GB. But for teams with less file transfer needs, a single file transfer size of 20GB is enough.
---
Tips: Select a cost-effective file sharing SMB solution
The five software and tools introduced above are very suitable for small business. Enterprises can comprehensively inspect and choose according to the size of the file transfer volume and collaboration requirements. For businesses with a monthly transfer volume of less than 1TB, there are several online file transfer services to choose from, and you can get file transfer services for a small monthly price.
If the daily transfer volume is very large, even if the file transfer requirement reaches PB-level, you can choose Raysync large file transfer service for its reasonable price. You can have unlimited file transfer traffic and transfer size for only USD699/year.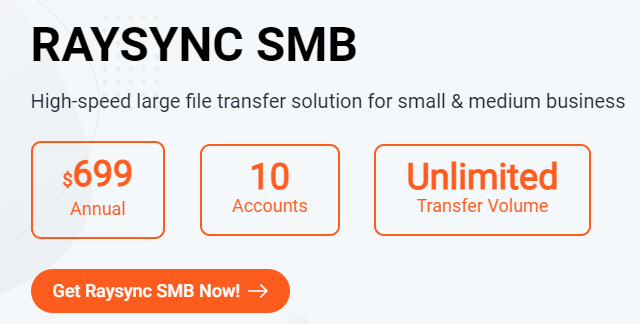 ---
Conclusion
I list the five solutions above, which suitable for the transfer need from small to large. If you have limited money to purchase a large file software, maybe Raysync is a valuable solution to choose, no matter for its price, transfer speed and team support. If you're interested, we offer a range of plans, from free license plans, SMB plan, to paid plans that come with a free trial.
---
FAQ
What is the best file sharing service for small business?
Depending on the size and frequency of enterprise file transfers, if the amount of file transfers is small, you can choose WeTransfer or SurgeSend. If the amount of file transfer is large, you can choose Raysync, which does not limit the number and size of file transfers.
Previous:This Powerful Data Transfer Solution is Used by 99% of Companies
Next:Raysync Released New Function: File Sharing Download Link Binds the First Device